Pearl nail polishes come in colours which are totally different from the regular type. There's always something for everyone because they're available in varieties that complement different skin tones. Irrespective of the shade you find, the soft glistening appearance will always remain constant.
If you want the best for your nails, you should stay tuned for the pearl nail polish reviews that I have lined-up for you. But to begin with, it's ideal to have an overview of what pearl nail polish entails.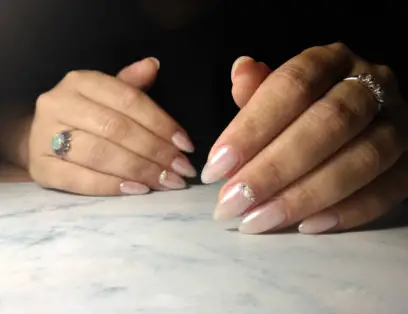 Most Popular Pearl Nail Polish Colours
As we have seen, the inspiration for pearl nail polish comes from the whole idea of pearls, therefore you'll likely come across the following nail polish colours:
One of the reasons why many fashion icons are opting for white nails polish is because of how versatile it is. It's the best choice if you're into French manicure with which you can combine it with the usual transparent shades for an all-time wear.
Many people usually confuse white and cream nail polish shades, but on a closer look, you can actually spot the difference. However, the two can be used interchangeably and so you shouldn't be worried in case your salon only stocks either of the two.
There's always an urge to change nail polish colours even as the seasons change. When it gets colder, your French manicure might not be flashy anymore. Now that is usually the best time to throw-in a shade of peach.
Grey still remains to be one of the most refined pearl nail polish colours. It usually has a luxury finish that fits well into different environments, including formal settings. The colour also pairs easily with solid black or white nail polish colours, for a timeless appeal.
Some Pearl Nail Tips
Times are changing, and so are some manicure trends. French manicure doesn't have to revolve around white nail tips anymore with the introduction of pearl nail tips. Here are some of the options you can try:
These nail tips come with versatility of a kind. You can paint, trim and apply your favourite nail polish over them for a uniform natural look. They are available in different sizes, so all you have to do is pick your tip size and length which you can still trim, file and shape to your design of choice. They're made with quality ABS material that makes them strong enough to last for about 3 weeks, leaving no pressure on the rest of the natural nails.
EchiQ Pearl shine Glossy nail tips
The package includes 24 pieces of nails which are already designed, so repainting won't be necessary, especially if you prefer to use them in full length. If you understand the artistic bit of nail tips, you won't need to go to the salon to get yours fixed because with these you can do it all by yourself. The pieces are quite economical because you can always re-use them for a couple of rounds
Here's yet another sample of the pre-designed pearl nail tips. These high quality options come in 12 different sizes to fit all the fingers. You can fix this the next time you're going out on a date, to a party or wedding and trust me, the nails will fit-in perfectly. They're easy to fix, file or trim and with that you can customize the tips to your shape and length of choice.
Best Pearl Nail Polish
FairyGlo 24PCS Pearl Nail Polish Set
Kicking us off with the reviews is the amazing set of mermaid colour options from FairyGlo. Each package contains 24 pieces of 10 ml gel polish all with natural formulas, so you don't have to worry about them harming your skin. The gel polish contains harmless and non-toxic resin, has a good tenacity and also releases minimal odour.
For the Do It Yourself squad, don't miss out on these products which are absolutely easy to apply. With that you don't have to make those frequent trips to the salon because you can do your nails right from home, provided that you have a drier lamp. You can remove the gel off your nails in two simple steps and that is; a 5-minutes soak in acrylic remover and finally ripping the piece down.
NICOLE DIARY Pearl Nail Polish
Nicole Diary is known for high quality nail polish sets made with formulas that give durable and glossy finish. With each set you'll find five bottles of nail polish and a nail brush required for the nail art part, so you can comfortably do your nails from home and still create those amazing salon-standard designs in no time. The sets come grouped into white base, black base and stamping nail polishes.
The bases have different colour effects, but what cuts across all of them is the glamour and sparkle they bring to your nails. The stamping options are highly versatile, therefore you can use them both for stamping templates and as regular nail polish. Their formula includes shinny glitter achieved by mixing the polish with smooth glitter powder, and it's the shine that brings forth elegant and gorgeous layers.
Essie Pearly White Nail Color Polish
Essie has been reigning on the shelves and in the salons for over 35 years, and this can only mean that it brings to you perfect and trendy nail polish colours with the endless nail care system that it has. This brand name has been known for a number of shades that have people talking because of the amazing manicure experience.
You can never go wrong with this platinum white nail polish from Essie, made with a salon-quality formula. It's chip resistant, so if you're looking for something to keep you manicure looking fresh for a long time, ask for this colour the next time you're at the salon. However, it's not only limited to the salon, so whether you're a professional, random user, celebrity of fashion icon, you can still bank on this nail polish.
Other than this premium nail polish, the rest of the products also come with visuals that help users to identify their nails needs with much ease. This in turn helps you pick the most suitable pieces from their range.
IBD Sea Pearl Just Gel Nail Polish
The IBD sea pearl gel polish colour comprises of a 100% gel formula which gives you a finish expected of a true gel. The application process is made simpler in that you can use it like a traditional nail polish, and this makes it suitable even for the home users. It cures faster than the rest, so your nails won't have to stay longer under the UV or LED light.
The removal procedure is equally simple and it only takes a 10-minutes soak in gel polish remover or acetone to get back your natural look with absolutely no mess. This gel polish is versatile, and can go well with both the finger and toe nails, or just as random additions to those bold colours when you need to go creative. It's also great and mild on nails, made possible with its wear-resistant formula that protects natural nails.
NYK1 White Pearl Nail Gel Polish
This is one of the globally-endorsed off white gel nail polish which is compatible with every shellac nail polish systems. You can use this NYK1 polish as a base or top coat during your manicure for durable and optimal layers which will have you sorted for at least two weeks. The shade doesn't fade, break, chip or smudge like other brands which degrade so soon.
The technology used in its production gives the nails that natural and fresh look, even in the occurrences of accidents that leads to brushing, knocking, or banging your nails. This pick will make your nails stand out with a flawless, deep, glossy and brilliant shine up to the 14th day.
With this nail polish, you can rarely make mistakes because it features a self-levelling Nanosmooth technology that delivers smooth surfaces, making it easy to do your nails all by yourself.
Conclusion
Pearl nail polishes are definitely something that every woman out there should try once in their lifetime. It's the simplest way to achieve that unique look, different from what the crowd has. From the pearl nail polish reviews, I would say that white colour always carries the day and you'll be advantaged if you opted for versatile brands like the NYK1 White Pearl Nail Gel Polish which can be infused in different manicure procedures.
And to those who love pearl nail tips, always remember to use the recommended glue when fixing the nails in order to keep both your skin and natural nails safe. As we wind up on pearl nail polish, remember that maintenance is still key, and always seek professional help whenever you want durable coats, worth your money.