Everyone wants beautiful nails, skin, and hair, but it requires more than sticking to the right topical regime and a healthy diet. There are hundreds of beauty supplements promising amazing results, but determining what works and just talks can be a bit tricky.
Therefore, to pin down the best hair, skin, and nail vitamin worth committing your effort and time to become a better version of yourself, we've gone through several products and expertly handpicked the top 8 products on the market.
So, if you are looking to get shiny hair, glowing skin, and strong nails, then keep scrolling to see our top picks with proven efficacy and key factors to keep in mind when making a choice.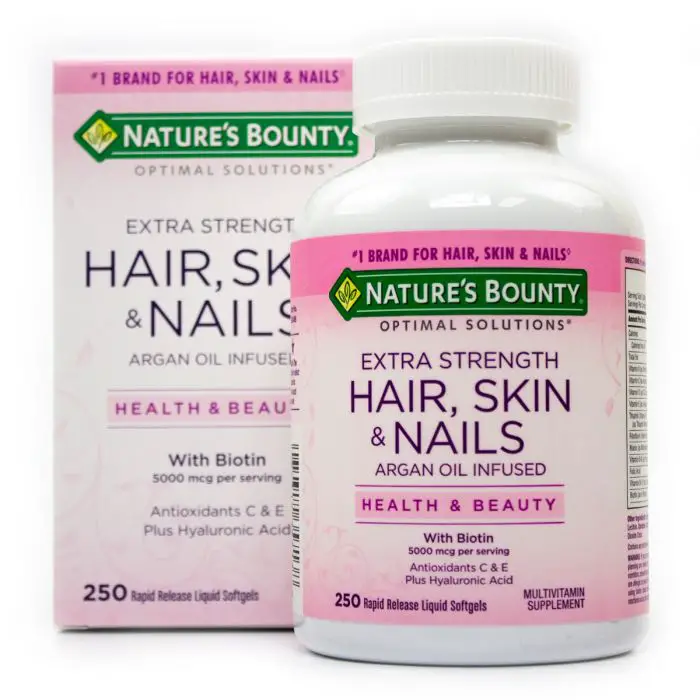 Do hair skin and nail vitamins really work?
Commonly, hair, skin, and nail supplements contain antioxidants like Coenzyme Q10, Vitamins A, C, and E, and even a B-complex vitamin called Biotin. Also, they include minerals such as selenium and manganese and fatty acids like flaxseed oil and fish oil.
Deficiencies of these nutrients, for instance, Vitamin A and Vitamin E, can result in scaly, rough patches. Insufficient intake of Biotin may also result in hair loss and eczema. But according to several health experts, people without apparent deficiencies won't notice a difference with hair, skin, and vitamin supplements.
Besides, there's yet to be any robust data supporting the treatment of natural, aging-related nail damage or hair loss or make your skin healthier. Nevertheless, ensuring that you are not deficient in these vitamins is the key to achieving shiny hair, glowing skin, and stronger nails.
Reviews of the Best Hair Skin and Nail Vitamins
Top 1 – Nature's Bounty Optimal Solutions Hair Skin & Nails Extra Strength
Our top product is one of the hair skin and nail vitamins women say they love to live with, citing stronger nails and thicker hair. Nature's Bounty Optimal Solutions Hair Skin & Nails Extra Strength features an argan oil-infused formula resulting in healthier, lustrous hair.
Its proprietary blend combines minerals, vitamins, antioxidants, and other nutrients for healthy skin, nails, and hair. The product comes in a capsule form, with each coated caplet featuring 5,000 mg of Biotin to support hair and skin health.
The extra-strength formula includes Vitamin C for healthy collagen construction. Keep in mind that the FDA did not evaluate these claims, and it's not intended to diagnose, cure, treat, or prevent any disease related to nails, hair, and skin.
Top 2 – ZenVita Formulas Organic Coconut Oil
Another capsule-form vitamin made with unrefined and cold-pressed certified organic extra virgin coconut oil. The main ingredient is rich in MCTs (Medium Chain Triglycerides) and fatty acid. The ZenVita formula is formulated to promote healthy skin, stronger nails, and lustrous hair. Not only that, it offers much more, which includes improving memory, aiding weight loss, and digestion, and supporting the overall immune system health.
Further, the coconut oil pills feature a much easier and convenient design, allowing users to that the vitamin in the solid form without any hassle. More importantly, ZenVita Formulas Organic Coconut Oil does not include any preservatives, artificial ingredients, and additives.
Top 3 – Reserveage, Keratin Hair Booster, Hair and Nails Supplement
The Reserveage, Keratin Hair Booster, Hair, and Nails Supplement are geared toward helping you achieve healthy nails and hair. It's an all-in-one solution using more than just Biotin to nourish and strengthen your nails and hair.
This vitamin is said to help add shine and thickness to your nails and hair. It's formulated to attenuate hair shedding and promote healthy growth. The Reserveage, Keratin Hair Booster, Hair, and Nails Supplement is a daily supplement containing the needed nutrient to support vibrant, beautiful nails and hair.
It's dairy-free and gluten-free. Also, Reserveage, Keratin Hair Booster, Hair, and Nails Supplement offers Cynatine HNS Keratin, which helps your hair withstand the stress of coloring, styling, and everyday shedding.
Top 4 – Solgar Super High Potency Biotin
Another potent hair, skin, and nail vitamins with a unique formula containing Biotin. This important vitamin B is needed for fat, protein, and carbohydrate metabolism. Also, it helps promote energy metabolism.
Solgar Super High Potency Biotin helps support and promote healthy hair, nails, and skin. The necessary B-Vitamin ensures certain enzymes are functioning properly within our body. That's not all: this product might be able to boost the body's energy production.
Further, the capsules are certified gluten-free and non-GMO, which makes it suitable for vegans. More so, this vitamin does not include dairy, yeast, sodium, colors, sugar wheat, artificial flavors, and preservatives.
Top 5 – Jarrow Formulas Jarrosil
Next is Jarrow Formulas Jarrosil, with a vegan activated silicon formula featuring a stabilized silicic acid molecular cluster. This product is said to offer these incredible benefits based on the stabilized molecular clusters of silicic acid.
Other components include boron, which is a vital mineral for collagen and bone health and enhancing the metabolic process of silicon. Further, it can help beautify and strengthen your nails, skin, and hair.
This best hair, skin, and nail vitamin comes with a neutral taste to ensure consumers can easily stick to the dosage frequency.
Top 6 – New Chapter Hair Skin & Nails Vitamins
New Chapter Hair Skin & Nails Vitamins are formulated with fermented Biotin for more potency than the usual, non-fermented Biotin. This product is designed to protect collagen and skin elasticity.
What's more? It includes Astaxanthin, a plant-based nutrient which is said to be stronger than vitamin C to deliver noticeable skin results in a couple of weeks.
Top 7 – SOURCE NATURALS Skin Eternal Tablet
SOURCE NATURALS Skin Eternal Tablet is one of the best hair, skin, and nail vitamins, and it includes C Ester, Lipoic acid, and DMAE. This vitamin is formulated to promote healthy skin tissue and protect the skin using just five key ingredients.
Top 8 – Imedeen Time Perfection Anti-Aging Skincare Formula Beauty Supplement
This supplement is formulated to help refine your skin by reducing wrinkles and fine lines appearance. It helps balance your skin moisture and quality to leave your skin more supple, smoother, and feel softer.
However, it's not meant for women above 40 years looking to take proper care of their skin. With only natural ingredients, it helps nourish your skin deeper layer for better results.
What to Know Before Purchasing Hair, Skin, and Nail Vitamins
While there are some products that work magic on your nails, skin, and hair, some vitamins are just overhyped. Therefore, it's essential to know how to spot the best vitamins for you.
Vitamins Included
Knowing the exact composition of each vitamin is critical. Some vitamins provide all three benefits, while others instead work well with just one aspect of your bodily health. Some vitamins are high in concentration to improve a particular area of your body.
Vitamin A
a common supplementary ingredient in many skincare products and multivitamins, since it is an effective anti-aging agent and helpful for wrinkly skin or dealing with acne. Keep in mind that vitamin A only affects your scalp's skin cells, not the hair directly.
Vitamin B
another excellent ingredient for people looking to improve their skin feel and look. According to some studies, vitamin B can help minimize the risk of some skin cancers and inhibit certain precancerous growth developments.
Biotin
Although vitamin B is essential, Biotin is shared across a lot of hair care and skincare products. The Biotin (Vitamin B7) is an essential ingredient for proper hair thickness and growing healthy hair.
This ingredient is also known for enhancing your reparative ability, and skin feel. Not just that, it helps make the nails healthier and stronger over time.
Vitamin C
This is another well-known ingredient for the role in our immune system. Vitamin C is an antioxidant, which means it plays a vital role in cell health. It's responsible for preventing oxidative stress in the surrounding cells.
Therefore, it supports the proper development of your nail, hair, and skin cells and limits the number of mutations during reproduction. Further, it protects and stops your hair from turning gray prematurely.
Vitamin D
Although we get plenty of Vitamin D from the sun, it's vital for human health, nail durability, skin clarity, and hair growth.
Vitamin E
This is a universal antioxidant and function just as vitamin C discussed above. It helps in protecting your skin and hair cells from free damaging radical oxygen molecules.
Other nutrients to support proper growth and development include folic acid, omega-3 fatty acids, fish oil, collagen, and calcium.
Dosage Frequency
Most hair, skin, and nail vitamins are in capsule or pill form and are meant to be taken with every meal. Others may require you to take every day or week, depending on the product.
Therefore, you should consider if the recommended dosage frequency matches your lifestyle. Purchasing a vitamin that requires you to take with every meal will do you no good if you struggle with keeping up with the frequency.
Amount
Last is the number of vitamins the product offers. The best hair, skin, and nail vitamin bottle. You don't want to splurge on a product that offers less, or trades off efficacy for affordability.
Conclusion
We've done the work for you, sifting through hundreds of products and carefully handpicked the top 8 best hair, skin, and nail vitamins on the market. Also, we're confident that any product on this list will work just fine for you.