We do a lot with our hands – hold people and things with it. Grab several items, receive, and give people with it. Even, it helps get what we are thinking and feeling across to our partner, boss, spouse, etc. therefore, every hand movement you make, people get to see how your nails look.
This is an excellent reason to ensure that not only do you keep your hands clean at all times, but also your nails. Ladies take pride in manicuring their nails, and some go far as embellishing with several designs, either overlays or extension.
Therefore, in this post, we'll consider some of the best overlay for natural nails, but before that, let's discuss some important topics for a better understanding of what's right for your natural nails.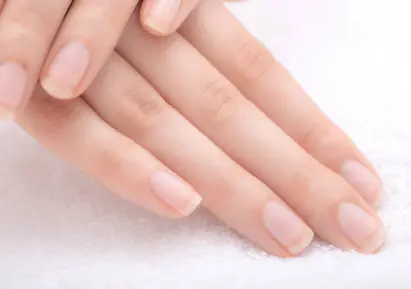 What is the Difference Between Nail Overlays and Nail Extension
So what's the main difference between these two options for people with natural nails. A nail extension (or tip), usually, is a fake nail attached or glued to your natural nails to enhance the nails' look or add length.
The nail extension is usually made of plastic and cut into shape to fit your nails gorgeously. These fake nails appear similarly to natural nails. It is attached or glued to your nails by applying the gel, acrylic, or some other mixtures on the fake nail or plastic nail extension. After that, the nails are made stronger by curing, which ensures you wear them for a longer period.
For those with very thin and brittle nails, overlays are an ideal choice to have on your nails. In simpler words, anything that basically covers your nails is regarded as a nail overlay. Also, there is a wide range of options when it comes to nail overlay.
Like nail extensions, you can pick from a dip color system to bio sculpture, gels, and acrylic. Any of these options will offer longer-lasting overlay and remain stunning for several weeks. But in our expert opinion, dip powder or gel overlay is a better choice since they are durable, odorless, and flexible. Also, they are perfect for people looking to purchase a healthier alternative to acrylic overlays.
What is the Benefit of Nail Overlays?
Unlike nail extension, the nail overlays don't extend the nails. However, they involve the application of hard-wearing gel or acrylic onto the natural nails and shaped to offer a neat, attractive look.
After this, the nail is then buffed for a high glossy effect. Using nail overlays offer your natural nails extra protection layer, especially for people with weak nails and prone to splits and breakage. Also, overlays are an ideal choice for people who have trouble growing out of their natural nails or chew their nails.
Therefore, if you have got brittle and short nails due to some habit, then you should consider nail overlays.
Types of Nail Overlays
Just as nail extension, the nail overlays come in a wide range of options to everyone's preference. Silk, fiberglass, acrylic, gel, and many more. The only difference between both nail types as the artificial tip, which is not included for nail overlays.
Further, many nail professionals offer branded overlay and nail extension treatment, meaning their system is developed by some company and are best used by professionals who have undertaken some sort of training to ensure impressive results are delivered.
The overlay and extension systems include the following – Gelish, Shellac, and Bio Sculpture.
Gelish Nail Overlay
The gelish nail overlay is somewhat in between the regular acrylic nails and the standard gelish mani. This overlay helps eliminate the need to apply several polish layers and spending time drying your nails under an LED/UV lamp. All you have to do is apply a base coat, dip your nails into pigmented powder, and buffs. Do not forget that you may have to repeat the process a couple of times.
In terms of extended wear, a gelish dip is harder than the regular gelish, which means it won't chip or smudge in the next 14 days.
Shellac Nail Overlays
Shellac is a blend of nail gel and polish. Since it's similar to polish, it works well for nail extension. Also, it's gel-like features offer additional durability and strength.
Unlike traditional gels, the shellac overlays won't cause a lot of damage to your natural nails even for long term users. This manicure pioneered by CND, Creative Nail Design, offers up to 14days wear. However, how long it lasts depends on how well your nails are well-prepped.
Bio Sculpture Nail Overlay
This type of nail overlay is one of the gel treatments offering impressive durability and helps make your hands look gorgeous. It offers a much more healthy approach without damaging your nails or deals with chipping nails. This nail overlay strengthens and protects your natural nail while applying this overlay.
This nail treatment ensures that your natural nails get the required nutrients to protect your nails from becoming brittle and dry. In the end, this glossy, flexible, strong, and durable gel overlay offers longer-lasting wear up to 21 days.
Without further ado, let's consider the best overlay for natural nails:
Best Overlay for Natural Nails
Makartt Nail Extension Gel
This 50ml nail extension gel is a little sheer, but incredibly beautiful and natural. It's ideal for creating any nail art design and will match most nail decorations or other colors nail gel. Not just that, Makartt Nail Extension Gel is ideal for creating various nail extension shapes from french nails, coffin nails, oval nails, or square nails.
The Makartt Nail Extension Gel is more flexible, stronger, and hassle-free to control, unlike most products on the market. Also, it's lighter than UV builder gel and acrylic. Even better, it comes with a long-lasting effect up to 30 days with proper nail filing, buffering, and cleaning.
ECBASKET Poly Nail Extension Gel
This 30ml poly nail gel is an ideal choice for creating different nail extension shapes from french nails, to oval nails, coffin nails, and square nails. For people looking to make different nail arts, the ECBASKET Poly Nail Extension Gel is available in 4 beautiful colors, including light pink, dark pink, white, and clear.
If prep properly, this poly gel nail will last more than a month. Further, this nail extension gel features 100% organic, healthy formula to ensure it's safe on your nails and skin. They are easy to handle, flexible, and strong with a natural look.
Glossy UV Thick Builder Clear Gel
This UV Thick Builder Clear Gel offers unsurpassed resilience, effortless workability, and high performance. This model is a non-soak-off gel and delivers high gloss finish, durability, and consistency with low odor.
More so, it's highly resistant to solvents, which makes it suitable for natural nail overlays and nail enhancements. Also, the flip cap is easy to use and comes in two size options: 1 and 8 ounces.
Conclusion
We've done our part by reviewing the best overlay for natural nails on the market. However, it's up to you to choose one that suits your needs and preference. But in our opinion, Makartt Nail Extension Gel does it better.