When it comes to the art of gifting, there are so many ideas and inventions coming up every single day, but all that matters is finding something memorable. One of the best gift ideas that stands out for me is a nail polish kit or gift set.
Many dealers in the nail polish industry are embracing this idea, and are actually making your life easier by bringing to you customizable gifts. OPI nail polish brand is one of them, and so if you want to translate OPI's huge presence into a gift for yourself or someone close to you, we have narrowed down the search for you with a list of the seven best OPI Nail Polish Kit and Gift sets.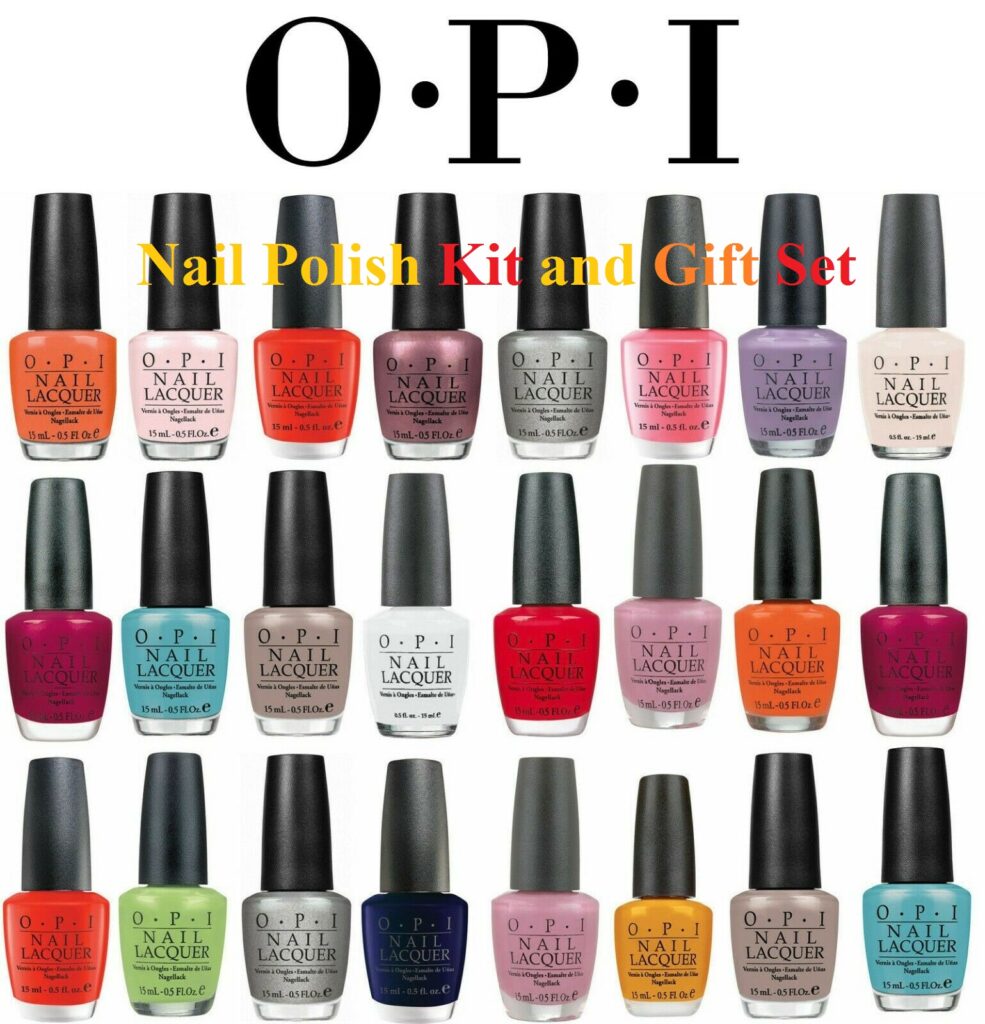 What Is OPI Nail Polish Brand?
If you're passionate about trying new things, you must have come across these nail polish products, either at the nail parlour or at the local store. OPI is globally known because of the variety of nail polish shades in their collection. They have held a central place in the nail industry with their iconic products, and this is all thanks to their superior quality products and unique fun shades.
Reviews of the Best OPI Nail Polish Kit and Gift Set
OPI Nail Polish Base Coat Prime & Gloss Top Coat
This set comprises of a primer base coat and of course a gloss top coat which is great for pairing with any nail polish shade of your choice. When you use this duo together, your manicure will even last longer because they give you less chipping, improved gloss and shine retention, and of course a maximum sticking power.
With such, it's a guarantee that your nail polish wear will stay in shape for up to 11 days. After identifying the gel polish shade for the day, just apply a coat of the primer base coat, follow it up with layers of the polish color then finish it up with the glass top coat, as easy as that.
OPI Nail Polish Mexico City Collection
The Mexico City collection is a great selection for those who love to try different nail polish colours. This mini-pack comes with 5 different shades of your favourite OPI spring infinite shine. Every single piece here gives long lasting shines that will have you sorted for the next 11 days.
The set is also a great pick for those who prefer to do their own nails because of the ease of application. In addition to this set, you can also include the primer base coat and glass top coat to your cart for a wear and shine similar to that of gel polish. Once you're ready to get your nails re-done, just use a regular nail polish remover to get you all set for something new.
OPI Infinite Shine Gift Set
Gifting has never been easier, given that OPI now gives you a greater option with these 4 pieces of long-lasting lacquers selected form its Always Bare for You Collection. At OPI, there's something for everyone, so if you're all about French manicures, this pack will make a great addition to your collection.
The set is picked from the spring range which is identified by soft sheer colours ideal for delicate wears. This is an inspiration from wedding nails, so if you want something for the bride or bride-to-be in your squad, look no further. It's also great for beginners, in that the products here are easy to apply and remove.
OPI Nutcracker Collection Nail Lacquer Duo Pack
This is a holiday themed collection comprising of colours guided by inspirations from Disney's 'The Nutcracker and The Four Realms', hence its name. A plus for this pack is the unique glitter gift bag that it comes with, making your gifting life spicier.
Getting this will be a true game changer considering that the OPI Nutcracker Collection is a limited edition, something that they'll live to remember. With this duo, you can use the glitter option on your accent nail which will greatly complement the rest of the nails painted in red.
OPI Scotland Collection Gift Set
The set has 5 pieces of nail polish shades picked from the twelve fall or winter shades in the OPI Scotland collection. Gifting someone this pack gives them a number of option to choose from. It includes a ProStay Gloss and Primer, shades 1, 3 and 5, so basically, you'll get both light and solid shades which cover you for a number of occasions.
Being mini-bottles equally makes this a great sampling option for those in salon business before going for the bigger packs. I would also recommend it for those who don't do their nails regularly because with that, there are minimal chance of half-used bottles drying on your shelf.
OPI Hello Kitty Nail Polish Collection- Top Coat Trio Gift Set
The OPI Hello Kitty collection has iconic colours that create long-lasting bonds on your nails and also between you and the person you're gifting. Here you'll find a Rapid Dry Coat, a Plumping coat and a Brilliant Top coat.
The trio cover all the three manicure essentials, from the quick drying top coat to the extra shinning bottle. At the end of the day, you'll have layers with gel-like luxurious finish and the better part is that with the Rapid dry polish, you'll be all done in just minutes, great for the moments when you're in a rush.
OPI Hello Kitty Nail Polish Collection Gift Set
Here's another one to sample from the Hello Kitty collection, and it's a great alternative for those who love colours, unlike the previous set. It has four pieces of mini lacquers of the following shades: Many Celebrations to Go, Let's Be Friends, Let's Celebrate and a Kiss on the Chic.
These are a shades which will bring colour to your nails especially if you love trying something new every time. They're unique mini lacquers which are equally ideal for sampling, before you invest in bigger bottles. The packaging alone is fancy enough, so you don't have to invest in anything else when sending this to your loved one.
Conclusion
The thing is, you can never go wrong with any choice from these seven best OPI nail polish Kit and Gift sets. With these options, it's also possible to sample two or more sets in order to get the desired variety in one's personal collection.
Being a globally endorsed brand, some packages might be costly, but at the end of the day, it's the durability of the wear that will define the true value for money that OPI products have. So even if you're on a budget, just get a set with varieties like the OPI Scotland Collection Gift Set to save the day.