With the myriads of radiofrequency (RF) skin lightening machines in the market today, it is easy for consumers to get lost as to which radiofrequency skin tightening equipment to buy. More often, consumers rely heavily on reviews and recommendations of experts and friends as to which product to choose. Hence, to help you figure out which radiofrequency cosmetic products to purchase for your use at home, we are giving you one of our unbiased Nuderma skin therapy wand reviews.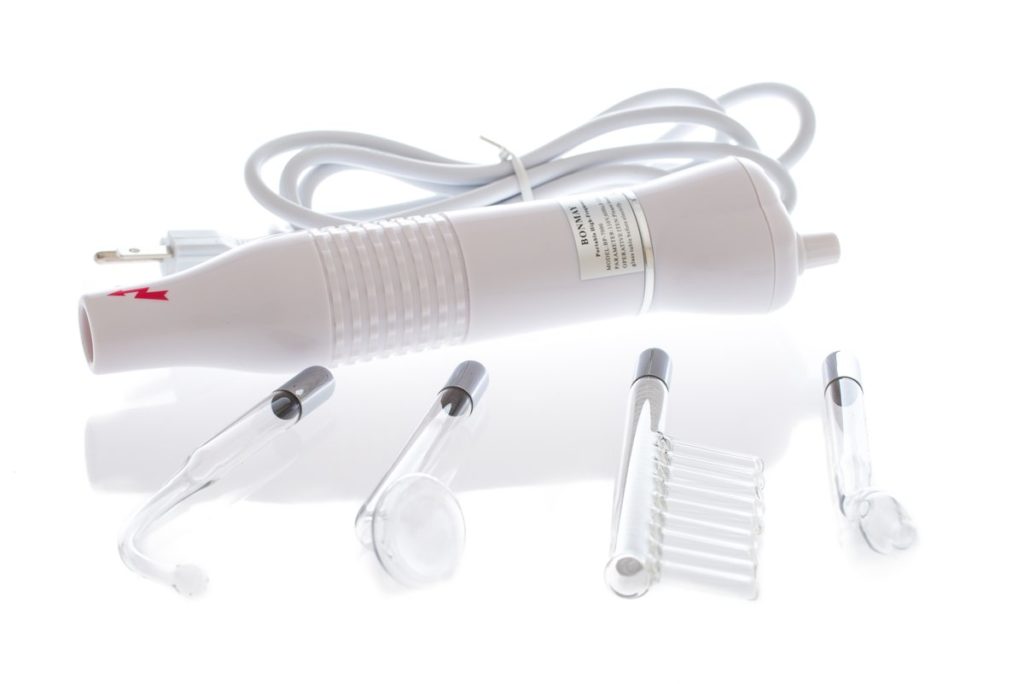 Almost everyone wants to look more vibrant and younger. Yet, aging seems to catch up on everyone. Signs of aging usually appear on the skin, especially, in the face and around the eyes. And almost everybody surely wants to stop the onset of old age. Hence, cosmetic products are selling like hotcakes around the world.
Introduction To Nuderma Skin Therapy Wand
To assuage the impact of aging, various cosmetic therapies and treatments have been devised. At present, there are hundreds of cosmetic therapies and machines at hand. Each of these machines and therapies claims to slow down the skin aging process. You can read about laser therapy and micro-needling therapy.
Some also undergo facelift treatment. Most of these treatments, however, are expensive. One such therapy, however, promises the same effects as other therapies. But it is less expensive. This therapy makes use of radiofrequency equipment.
Radiofrequency (RF), of course, is a type of energy measured in waves. Hence, RF skin therapy makes use of equipment that emits radio waves.
Radio waves, of course, vary in length and intensity. The radiofrequency waves frequently used for skin tightening equipment range from 0.3 MHz to 10MHz. However, the commonly used frequency is that of 0.45 MHz which is a very slow frequency. Hence, this means that the radiofrequency waves emitted by RF skin therapy equipment are highly controlled and gentle to the skin.
Nuderma Skin Therapy Wand Review
One of the radio frequency skin tightening equipment that you can use at home is NuDerma High-frequency Skin Therapy Wand Machine. It is a portable handheld machine that you can use as a complete skincare system at home. This device aims to supercharge the ATP of skin cells to encourage skin turnover which could lead to younger-looking skin.
This device is also effective as an acne treatment. It offers a spot treatment for acne with its Spot Treatment Tip. Its high-frequency treatment is designed to kill bacteria that thrive underneath the acne while helping to reduce inflammation at the same time. It can also improve your skin tone and texture by providing specialized treatment in different areas of skin.
Nuderma Skin Therapy Wand is also designed to reduce fine lines and wrinkles. This device produces 10W power at the frequency range of 50-60Hz waves. This therapy is painless and is designed for reducing fine lines and wrinkles by boosting blood circulation and collagen productions. According to dermatologists, you can use this machine daily for it does not do any harm to your skin.
The NuDerma Kit comes with a NuDerma High-frequency Handle, Neon-powered mushroom wand, bent wand, comb wand, tongue wand, and quick-start treatment guides. It also comes with instruction and support contact manual.
You can use its mushroom tube as a broad applicator for smoothening your wrinkles and fine lines. The bent tube, on the other hand, is perfect for spot acne treatment. The tongue tube is like the mushroom tube but is more targeted. It is an applicator for smaller areas.
The comb tube, however, gives your hair and scalp a great boost. It stimulates the hair follicles to grow healthier and thicker over time.
Pros:
It enables you to experience radio frequency skin tightening treatment at home.
It comes with many electrodes that could work for specific skin area.
It is approved by FDA
It enhances blood circulation to the dermal areas.
It is easy to use.
Cons:
Its dial lacks numbers for easy setting.
The materials are easy to break.
It is not recommended for those who have sensitivity to high-frequency waves.
How to Use High-frequency Machine at Home?
Once you apply radiofrequency on your skin, the skin temperature rises. This high energy radiofrequency current increases the heat on the targeted dermal areas of the skin. The increase in temperature makes the body believe that there are damages to the skin cells and tissues.
In response, the targeted dermal areas produce more collagen. Collagen, of course, is a structural protein. It is responsible for tissue regeneration. Moreover, the major cause of aging is the loss of skin collagen.
So, the goal of radiofrequency skin tightening treatment is to bring more collagen to the skin. It enables more collagen production by destroying the existing collagen in the skin. The destruction of existing collagen would surely result in the production of new collagen by the body.
Professional radiofrequency skin tightening treatments are usually performed by dermatologists. Yet, you can also buy several FDA-approved radiofrequency treatment machines in the market today for the body and face. These devices are surely non-invasive.
These devices may cost from $50 to $1,000. They are not, however, as powerful as those found in the derma clinics. These devices, therefore, require multiple usages daily or weekly.
Conclusion:
Finding the right radiofrequency skin tightening treatment is not an easy thing to do. This is because there are myriads of RF skin tightening treatment equipment in the market today. Given this fact, you need to carefully weigh your different options and consider the feedback and reviews of experts and users, before you zero in on a particular RF skin tightening product.
As one of the Nuderma skin therapy wand reviews online, this review will help you decide whether to buy RF skin therapy equipment or not. It will also help you decide which RF product to buy. We consider, however, the NuDerma Machine as a good choice because it comes with great features. It has many applicators and it is easy to set up, giving you the chance to experience RF skin lightening therapy at the very comfort of your home.