Apart from picking the right polish for your manicure, getting the right shape that suits your needs is yet another way to flatter your nails.
In 2021, we now have up to 12 common nail shape trends that you can pick from, and trust me, there's something for everyone. All you have to do is understand your nails, hands and fingernails and before you start asking how, you have everything you need to know well illustrated in this article.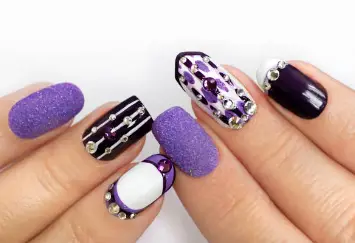 Different types of Nail Shapes
Today, there are 12 great nail shapes that you can be able to pick from, depending on what suits your hands. Let's have a look at what these twelve styles are:
Description: If you happen to have chubby fingers and are wondering what shape to give your nails, this is it. It adopts to the natural contours of the fingertips with much ease and in the end your nails will even look longer. Generally, it's a great pick because you don't have to see a professional to get this done. It's also fairly easy to maintain.
Recommendation: Being one of the traditional nail shapes that has ever existed, you can wear it with any shade.
Description: This shape is usually associated with French manicures, all thanks to its bold statement. It's achieved by trimming the nails perpendicularly on the sides, leaving them sharply rounded. If you don't usually visit the saloon regular this is the right pick for you. It remains neat and trendy for quite some time and the shape also keeps the nails stronger so there will be no chances of it breaking.
Recommendation: With this shape, you'll end up with short and wide nail beds even if you have smaller ones and that's why it's a recommendation to those who have long fingers with short and narrow fingernails. If you have a solid dark colour, try it on this shape.
Description: Squoval simply means that the design reveals a combination of square and oval nail shapes. This means that here you'll find both strong and delicate features. The curves are neither too sharp nor round, but flattering enough to fit any nail shape and size.
Recommendation: The blend is perfect when you wear this with a dark shade that embraces the flexibility and strength revealed with this nail shape.
Description: This type is defined by its slim sides which are complemented with tapered round tips. The combination gives this shape a nice and sophisticated look which is what anyone with thinner nail beds should go for. In addition to that, it's important to remember that you'll have the best results if you try this on long nails. The good thing is that it doesn't limit you to any type of fingers because all you have to do is keep your nails longer, after which it will be easier to hack this shape.
Recommendation: Wear your nude nail polish on this shape to get a sexy and slenderizing outcome.
Description: If you have short and wide nail beds this is the shape for you. It takes the shape of an egg, slightly similar to that of almond-shaped nails, with the only difference being the soft and blunt tip the oval-shaped nails have. It reveals a long design which is tapered slightly from the nail bed, stretching all the way to the tips.
Recommendation: Suitable for those with long nails and it also pairs well with equally trendy and bold colours like reds or metallic.
Description: Stiletto nail shape is like a more dramatic version of the Almond shape, in that it's longer and features pointed tips. It's popular amongst celebrities considering how nicely they stand out. In addition to that, it's also flexible when it comes to designs which will leave your nails catchy. However it's not the right choice for those who get a lot of things done using their hands.
Recommendation: Here your chance to get creative with your nails, so you can bring out all the gems and glitters you love.
Description: Also known as coffin shape, Ballerina nail shape is one of the best trends seen in the year 2020. From the name, its shape is similar to a coffin or ballerina pointe shoes in that it's defined with a straight-edged tip. This uniqueness and the fact that it's chic and strong makes it highly recommended for people who are passionate about nails.
Recommendation: This blends perfectly with a solid colour which is even better if the gel polish has a matte finish.
Description: The inspiration here is driven from the cut angle common with lipstick tubes. It's almost similar to square nail shape, only that there's a way it slants diagonally creating the unique shape.
Recommendation: If you have narrow nail beds or slender fingers, this is definitely a shape you should sample.
Description: Edge Nail Shape is another example in the group of pointy nail shapes, and with it comes a very edgy spine. This spine is placed above the nail plate, forming a slight crease from where the spine begins to the nail tips.
Recommendation: It's less aggressive, but still gives you enough room to try different nail arts that can embrace the attention-grabbing shape that your nails will have.
Description: This shape is also commonly known to some as the duckbill nail shape. It flares both outward and inward at the tips. This gives it a wide flare on the tips which resembles a duck bill thus its name.
Recommendation: A great bonus with this shape is that the flare creates enough space to accommodate your favourite nail art for a signature look.
Description: I consider mountain peak nail shape to be a friendlier version of stiletto nail shape being that they're a bit shorter. Another difference is that this shape is pointier on the tips, and it's this that creates the dauntless look you'll have on your fingernails. It might not turn out perfectly on regular nails.
Recommendation: Achieving this shape is quite a task on natural nails, and that why it's recommended for use on artificial nails.
Description: Looks like we have a lot of options for the stiletto shape, so if the mountain peak doesn't work well for you, well here's another option. It's equally a less dramatic version of Stiletto nail shape, having short and soft tips.
Recommendation: You can still highlight your tips differently with a French manicure after fixing this shape on your nails, whether you have wide or narrow nail beds.
Best Acrylic Nail Shapes
24pcs Black & Green Gradient Acrylic Full Cover Nails – Round Acrylic Nails
When looking for acrylic nails, it's also important to look for brands that can fit into different aspects of your daily life and not the usual occasion-based options. One of these is this product which is easier to wear and fits a variety of themes.
In the package, you'll find 24 nails with 12 different sizes and an additional mini file for glue stickers. The versatility here is unmatched, in that you can use these nails both at home and at the salon and in addition to that, they also fit different finger sizes.
MAKARTT 500pcs Squoval Full Cover Acrylic Nail Tips – Squoval Nail Shape
MAKARTT squoval comes in 500pcs of French nails with a full cover and clear color. You can file or paint these nails with much ease and even after painting them, they'll still retain their natural look.
Every single piece of these nails are numbered making it easy to pick the right size for every finger. The sizes are also versatile, in that you can still fix them long or have them clipped to your perfection.
ECBASKET 500pcs Full Cover Ballerina Artificial False Nail Tips – Coffin Nails
As earlier mentioned, coffin or ballerina nail shape is a trend you wouldn't want to miss. Having been made with quality ABS materials, these nails are one of the breathable, durable, light and breathable brands we have today, making them healthier on your natural nails.
This ECBASKET clear set is guaranteed to stay on your nails for up to 3 weeks. Every bag in the package holds 50 nails of different sizes so you won't miss something for all your nails. They fit with much ease, so you don't have to go to the salon to get your nails fixed.
Kiss 100 2 Pack Full Cover Nails Active Oval – Oval Nails
What you'll find here are sets of durable medium-length oval nails that are easy to maintain and remove. Their surfaces blend faster with the glue, so all you'll need are 4 seconds to get a perfectly bonded outcome that stays in place until you're ready to remove them.
The sizing used varies, so you'll get the perfect fit even for the smaller nails. This pack is also an ideal pick for those who love acrylics but still want to give their nails a natural finish.
Kiss 100 Full Cover Nails Long Square – Square Nails
Kiss 100 is serving you here with these attractive curves that bring nothing but long and classic look to your nails. These artificial nails are able to hold any nail art or polish of your choice, giving you a longer wear compared to the rest.
Therefore, you don't have to worry even if the nature of your work involves using your hands regularly because these thick nails will still have you covered. The better part is that with the right glue, you can get these all done at the comfort of your home.
Bling Art Gel Red Gel Glitter 24 Long Tips Glue – Almond Acrylic Nails
At the first glance, you can mistake these for stiletto-shaped nails because of their pointed shape. This intense Valentina nail is made in a slinky Almond shape, making it even more resistible.
It gets the rich vibrant colour from the technology Bling Art uses on its gel nails. To give durable coating, these nails feature an extra UV layer on top of the embedded glitter, so chipping shouldn't be an issue. These gel nails will be your rescue whenever you want to pull a romantic touch to your outfit.
How to pick nail shapes
When having your nails trimmed, or if you want to spice it up with acrylic nail tips, it's important to consider the following factors before picking on the shape to go for:
Picking nail shape for long fingers. If you have long and slender fingers, there's a variety you can pick from depending on whether you have narrow or wide nails. Squoval goes well with wide nails and square shape with narrow nails. But in general, you can also try coffin and almond nail shapes for your manicure.
Picking nail shape for fat fingers. You can get that interesting look on fat fingers with oval, squoval or round nail shapes.
Picking nail shape for big hands. For a fabulous look, big hands pairs perfectly with flare, oval, edge and lipstick nail shapes
Picking nail shape for chubby fingers. You can never go wrong with any pick from oval, almond, round or coffin shaped nails in case you have chubby fingers. These shapes make both the fingers and nails to look longer, so the chubby fingers will remain underneath the tips.
Picking nail shape for short fingers. Short fingers blend perfectly with round, almond, stiletto, oval and any other pointed nail shapes.
Frequently Asked Questions
What nail shape does Kylie Jenner get?
If you have long and oval nails like Kylie Jenner, you can still spice things up with square-shaped manicures. With such, you can try different shades of gel polish depending on how you want to turn up. However, her signature shape still remains to be the trendy coffin or ballerina nail shape.
What is the popular nail shape for 2020?
Of all the trends and inventions in 2020, the coffin or Ballerina nail shape still tops the list. They're the best option for those who want something as dramatic as stiletto nail shape, but equally safer when you need to get a number of things done using your hands.
What nail shape is best for your hands?
Picking the best nail shape for your hands is relative, depending on the size and shape of your hands. For further illustrations, please refer to our guide on how to choose the best nail shapes as earlier highlighted in the article.
Conclusion
One of the key things to have in mind when trying some of these new nail shape trends is the shape and size of your hands and fingers. This will help guide you on the ideal choice for you, although round shapes like 24pcs Black & Green Gradient Acrylic Full Cover Nails tend to fit a number of people.
Another thing is that when going for artificial nail shapes, remember to invest in quality brands like the ones we have reviewed in order to keep your natural nails healthy.