The best thing about having a variety of options when it comes to manicures, is that everyone gets served what's best for them. Only a few people still hold on to the traditional French manicure because it looks like everyone is always willing to try something new. One of these trends is multichrome nail polish.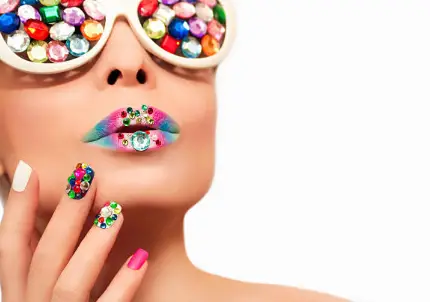 I usually say that this category is specifically designed for those who love their nails shiny and magical, all at the same time. The challenge has always been on how to find the best brand for optimal results and that's why I decided to do the Multichrome Nail Polish Reviews.
What is multichrome Nail Polish?
Multichrome emerges from the idea of chrome nail polish, which this being a better and improved version of the latter. Their composition usually has a theme colour which in the end shifts to other complementary colours the moment you move your hands, or if the nails are subjected to light.
If you're wondering how this is made possible, it's because of the manufacturing process. The range of colours is achieved by combining flakes of glass, mirror, metal and pigment with a nail polish base.
How Do You Apply Multichrome Nail Polish?
It's always important to prepare the nails well before doing your manicure, especially if you don't do your nails quite often. This helps keep the nails healthy and also minimizes peeling off.
First you need to trim, buff and file the nails in order to create the ideal surface where the nail polish can adhere to. This in turn helps prevent premature chipping of the nail polish. Thereafter, clean the nail surfaces with cotton soaked in acetone to remove any dirt.
Apply a base coat and solid base colour
Apart from cleaning the nail surface, the durability of your manicure will also be enhanced when you use a quality base coat. It also helps retain your natural nail colour with no stains from the nail polish.
With multichrome nail polish, we have certain brands which require a solid undercoat in order to achieve the ideal opaque effect. For this you can either go for light or dark colours depending on how you want the effect to be. However, you can skip the base colour if the brand you have is opaque enough.
Apply the multichrome nail polish
If you opted for the base colour, remember to give the layer some time to dry before proceeding to this step. After the layer has been cured, apply your first layer of multichrome nail polish, give it some time to cure then add two or more layers, guided by how you want the nails to turn out. Always ensure that the previous coat layered is properly cured before adding an extra one.
I know multichrome nail polish is already shiny enough, but there's also need to add in extra durability to keep them shining for days. It also enhances the shift in colours at different angles, making your nails to standout uniquely, unlike when you don't use a top coat. And similar to other coats, even this layer should only be done after the multichrome nail polish has been fully cured.
Reviews of the Best Multichrome Nail Polish
KBShimmer Shade Shifter Multichrome Nail Polish
Unlike some Multichrome nail polish colours which remain constant, KBShimmer will have your nails changing colours depending on what angle you're viewing it from. The views and shine are equally different when viewing under light or not, but the dominant colours one is likely to see are: cyan, blue, red, orange and purple. To achieve this ultimate unique look, you'll need at least three coats of the nail polish.
However, you can also hack the same by opting to use a black shade as your base colour before finishing up with only a layer of this nail polish. The manufacturer has made this brand friendlier even to non-professional users by designing it with a flat brush, making it easy to use. 
The removal process is equally simpler and you can also do the same by following the foil removal method. To keep your nails smooth and shiny for a long time, remember to use a high quality top coat once the Multichrome nail polish is fairly dry.
ILNP Cameo Chrome Nail Polish
This is a high quality professional nail lacquer with beautiful colour shifting effects ranging from purple, green, copper, pink and gold. This Cameo serves you with the fastest curing layers and a long lasting manicure. With this you won't have to add an extra solid colour as the base for you to achieve perfectly done nails because the nail polish is already opaque.
The fact that it's ideally made for professionals shouldn't get you worried about how it turns out when you Do It Yourself. Making the application even easier when using at home is the decent nail brush attached to it which gives you smooth and even layers.
Being a regular nail lacquer, it's purely air dry, and so there's no hassle of getting yourself a curing lamp when doing your nails from home. Similarly, if you're one of those who love to change their nail polish more often, this ILNP still remains to be the best choice for you. It's easier to remove and no matter how many coats you painted, it will never get your nails stained.
Conclusion
With the range of colours that you get in a single bottle of multichrome nail polish, who would even want to go through the struggle of mixing colours to achieve something so magical? Being that today we only had two products, making a decision from the multichrome nail polish reviews shouldn't be a problem. You can also increase your collection by having both products in stock, so that you get something different as you change your nail polish.