There are myriads of products that claim that they can improve skin tone and reduce signs of aging. One such product is the DermaWand which, we think, is worth reviewing here. Hence, in this post, we are going to provide you with one of the unbiased dermawand reviews you will ever read online.
Top Three DermaWand Products
If you want to try a Dermawand Product, you can check out the following three DermaWand products:
DermaWand Retail Kit with Preface – LOOK YEARS YOUNGER
This Dermawand kit is an original Canadian Edition manufactured by ICTV Brands Inc. This DermaWand Kit comes with a DermaWand, a beauty guide booklet, bag, and Pre Face treatment.
This DermaWand kit is designed to deliver gentle microcurrents onto your skin. These microcurrents deliver thermal energy to the skin, especially, the dermal areas that are right under your skin's surface. This thermal energy increases the skin temperature, enhancing blood circulation in that part of the skin.
This DermaWand is designed to deliver microcurrents at 100,000 cycles/second. These microcurrents produce a massage effect on the skin. With enhanced circulation into the dermal areas under the skin, a new supply of oxygen and nutrients go to the skin cells, bringing in new life to the skin.
This DermaWand works using similar stimulation technology as that which is used by huge radio frequency machines for managing premature aging signs on the skin. It makes use of lower amplitude for home use. You can use this equipment for three minutes every day, once in the morning and once in the evening.
DermaWand PRO Microcurrent Skincare Device
The DermaWand Pro is an ungraded solution for wrinkles. It is designed to be 50% stronger than standard models. It also makes use of radiofrequency technology! This means it makes use of oscillating microcurrents that heat up the dermal areas under the skin.
These microcurrents heat up the targeted areas, leading to enhanced blood circulation in those areas. With better blood circulation comes more oxygen molecules and nutrients that are needed by skin cells.
These microcurrents also encourage the production of collagen. Collagen is a protein responsible for tissue regeneration. In turn, with the continuous use of DermaWand Pro, the presence of large pores, uneven texture, and puffy eyes are diminished.
This kit comes with the DermaWand Pro Device, a convenient carrying case, and DermaVital Pre-face Treatment. The DermaWand is specifically made for cosmetic and relaxation use.
DermaWand with Preface & Eye Recovery
The DermaWand with Preface & Eye Recovery is another DermaWand product that you can use to enhance your skin tone and improve its texture. Just like the other products, it makes use of a radiofrequency wand that is designed for reducing visible signs of aging and softening wrinkles and fine lines. It also improves skin texture and tone.
This kit includes the DermaWand, Bag, DermiVital Pre Face, Instruction Guide, and DermaVital Eye Recovery. The Pre Face complements the DermaWand. It is a unique treatment designed for enhancing the effects of DermaWand. It prepares the skin with a mixture of hydrating moisturizers.
The DermiVital Eye Recovery, on the other hand, is designed for reducing the appearance of wrinkles and fine lines around one's eyes. It does this by hydrating the skin with bio-fling spheres. You will see visible results within weeks of use of this DermaWand.
Does Dermawand Really Work?
The manufacturer of this item claims that this product can enhance the appearance of your skin by removing fine lines and wrinkles. The manufacturer also claims that it can lessen the appearance of pores. DermaWand kit is specifically designed to improve skin texture, tone, and hydration.
The Dermawand can rejuvenate skin by sending a stream of micro-impulses to your skin. These micro-impulses can go up to 168,000 micro-impulses every second. In a way, it works like hundreds of tiny fingers that massage your skin in synchrony.
These micro-impulses heat up the skin causing more blood circulation to the targeted area. Moreover, the body is tricked into believing that it is injured by this heat. So, it produces new collagen. Collagen is a protein that is responsible for tissue regeneration.
The Dermawant kit comes with the retail box, cosmetic bag, radiofrequency wand, Pre Face, treatment, instructional DVD, beauty guide, and DermaVital skin quench.
Dermawand Reviews Before and After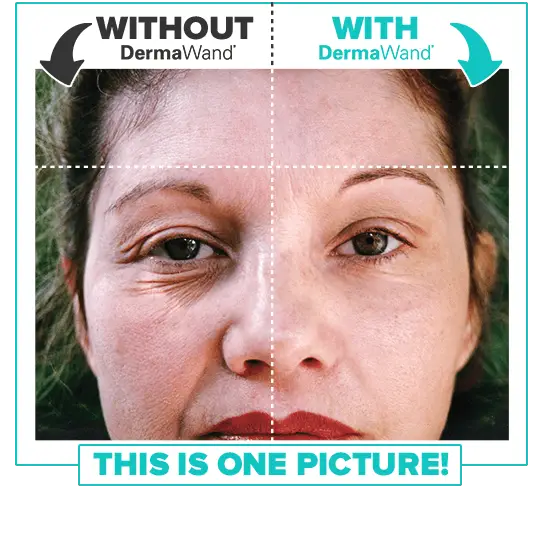 Online, you will also see side-by-side comparisons of the face before and after the use of this item. Those who have used DermaWand Products, however, have reported seeing a difference in their skin tone and texture within a week.
Others have reported firming and plumping effects caused by collagen production induced by the effect of radiofrequency microcurrents of DermaWand. Some others, however, reported minimal or no effect on their skin.
DermaWand Side Effects
DermaWand treatment is surely painless. Since it uses low amplitude frequency, it doesn't cause any pain, unless you have allergic reaction to radiofrequency waves. One most obvious effect of the use of DermaWand is the tingling sensation when using it. Some also reported that the use of DermaWand made their skin look temporarily red. Well, this pretty much natural, considering that it massages your skin to encourage blood circulation in the targeted area.
What is the DermaWand?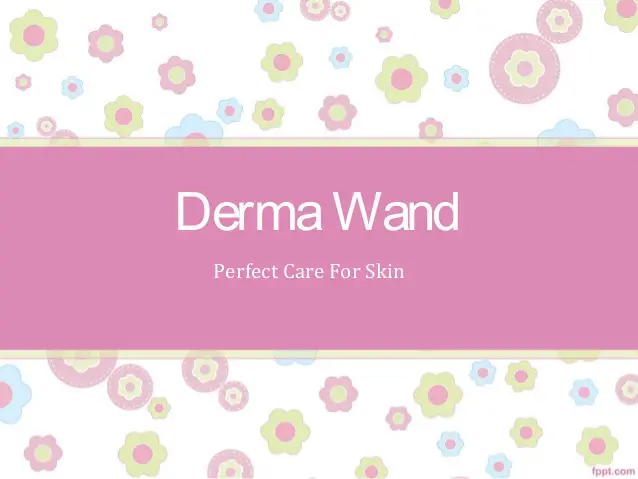 DermaWand is a skin tightening machine, designed to enhance the appearance of skin. It aims to reduce wrinkles and fine lines. Its main goal, however, is to enhance the tone and texture of your skin. It tightens sagging skin while reducing puffiness around the eyes and cheeks.
As a handheld anti-aging device, it makes use of radiofrequency waves to enhance skin tones and texture. It works like those of the large clinical machines for skincare. But it makes use of low frequency and amplitude for safe use at home.
DermaWand emits low-level microcurrent impulses within the range of 100,000 cycles per second for boosting circulation when massaging the skin. This massaging effect also heats up the dermal area. As the temperature of the targeted area increases, collagen is destroyed, leading to more collagen production. Collagen is a protein that is responsible for tissue regeneration.
DermaWand also increases oxygen delivery to the surface of the skin. As it massages a targeted area, it stimulates blood circulation in that area. This leads to deliver of new oxygen supply into the targeted area. Along with the oxygen also comes various nutrients for skin health and growth.
The Dermawand does not come with any unusual ingredients. It comes, however, with a Pre-Face Treatment kit. This Pre-Face Treatment is specifically used with Dermawand. Its key ingredients include chamomile and aloe vera.
The DermaWand is manufactured by ICTV Brands Inc. This company is based in the United States and specializes in manufacturing and selling skincare and electrical equipment.
How to Use Derma Wand
Conclusion
There are many skin-tightening treatments in the market today! Some of them include micro-needling and laser resurfacing treatments. Most machines and treatments are very costly. DermaWand, however, is the less expensive alternative to these costly machines.
You will find online various customer DermaWand reviews. Moreover, most of them are positive raves. But before you ever decide on which skin tightening machine to buy, you should first consult with your dermatologist. Your dermatologist can best tell you the most appropriate treatment for your skin.