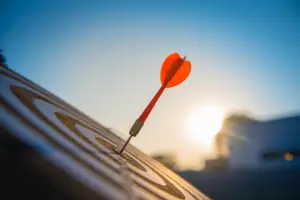 For lovers of a sport or a game, it is necessary to note that before starting out to participate in the sport, you know the necessary basics of the game. You can achieve this by watching different games which are related to what you want to partake in. Taking soccer for example, those who have developed interest in the game, have sustained it basically in two ways: First, they have watched professionals play the game continuously, and second, they have practiced themselves.
For games such as darts, the same rules apply. However, learning to play darts has its own specific rules, and it is expedient that you know them before learning to play. For instance, walking into a store and buying a pack of darts can be regarded as a false move, you have to start from the basics.
One fact you should realize is, the kind of darts you choose, would determine to a large extent, how well you would play and develop your skills
So for beginners, you need to know the parts of a darts
Flight: This is regarded as the back of a dart. The size and style determine to a large extent its stabilization and speed
Shaft: This is what attached the flight to the grip, it can be made from any material
The grip: This is the part of the dart which stays in the middle of your fingers, they could either be rigid or smooth
The point: This is the part of the dart which is fired into the dart board, it is usually sharp. The common types of darts points are usually sisal boards and plastic boards
TYPES OF DARTS
There are lots of best darts to buy on the market, and it could be difficult for the beginner to make the right choice in selecting one. One point beginners should note is, the point of the dart is a major identification feature for darts.
Steel darts
This type of dart is meant for bristle dartboards. With the tip, the penetration of the board is easy. You can sharpen the tip if it becomes blunt, or the whole dart could be changed.
Soft tip darts
This dart is okay for electronic boards, and this is because the dart has a low weight. The tip is made of durable plastic
Brass darts
These darts are very popular. However, they are not meant for professionals. For bar plays and random recreational outings, brass darts can be used
Nickel silver darts
These darts bear a striking resemblance to brass darts, as they have the same density. The only downside for this dart is, these darts are quite expensive than brass darts. They are however known for being very durable, even more than brass darts
Tungsten darts
These darts are also well-known, and a good number of professionals make use of these darts. They have high density and are very durable. However, they can be affected by wear which is caused by friction.
DART SHAFTS
When choosing dart shafts for beginners, a composite or carbon-fiber is advised for use, they are very durable, and they can be easily replaced. They do not vibrate as such, so loosening from the barrel is nearly impossible
DART FLIGHTS
When choosing the right darts for use, it is important that you take a look into their flight. Most professionals use the weight of the dart and the speed of their throw as the yardstick for determining the dart flight. So for a quick throw and faster flight, a smaller one would suffice
BEST DART WEIGHT FOR BEGINNERS
Beginners are advised not to disregard this factor, if they do not want to have issues in the future. For starters, the recommended weight for darts is between 16 to 20 grams
COST OF A GOOD DART
As earlier mentioned, the market is flooded with all sorts of darts which have different prices. It is important that you note that the expensive price of a dart does not guarantee how good the dart would be. So, it is best that you pick the darts which would go well with your skill level.