Pains related to Plantar Fasciitis are often unbearable, and that's why many people are opting for other more effective options for managing and preventing this foot condition. And of all the home-based remedies for Plantar Fasciitis, foot massage has been seen to outweigh the rest because of how efficient it is.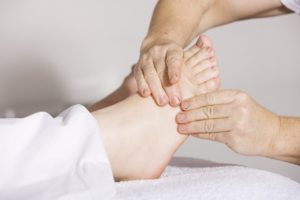 The first step is finding foot massagers that are ideal for plantar fasciitis because some of them will only make your situation unbearable. In that line, we have outlined for you the best foot massagers for plantar fasciitis reviews for 2020, and we hope that at the end of the reviews, you'll have found something to make your life more bearable.
Reviews of Best Foot Massagers for Plantar Fasciitis
Nekteck Foot Massager Machine for Plantar Fasciitis
Nekteck is the best way to relax tense foot muscles and regulate blood flow. The massager features 6 massage heads designed with 18 rotating massage nodes. This combination ensures that the kneading intensity penetrates through all the strained points, thereby easing tensions felt on the feet.
It has a safe heat function that you can chose to turn off or on manually. The heat option speeds up pain relief resulting from fatigued muscles. One of the amazing things I love about this product is the adjustable height which can go up to three levels higher.
This is a plus to comfort, depending on one's preferences or from where they're having their massage. Apart from the fact that you can easily switch it on and off using your toe, it's also convenient and easy to carry using the handle it's designed with. What's more, it can also function as a knee massager. However, its head function does not last so long.
Pros
Versatile design
Adjustable Height
Portable and easy to use
Relieves foot stress
Cons
Heat Function doesn't last
MedMassager MMF06 11 Speed Foot Massager
This remains to be one of the most powerful foot massagers available on the shelves today, with 11 speeds ranging from 1000-3700 rpm. This gives you control over the massage, for maximum comfort.
It features a full-size oscillating footpad designed with an arch bar and surface that targets the pressure points on the foot. Worldwide, this massager is being used by therapists and doctors to boost the circulation in the legs and feet of those suffering from plantar fasciitis.
It's versatile enough, and can also be used by those struggling with neuropathy and diabetes. Its effective in easing pains related to these conditions because the massage it gives helps in promoting healthy flow of blood.
Pros
Designed with a rugged and reliable construction
Helps with diabetes and neuropathy as well
Rugged and reliable construction
Includes a kit making it safer on hardwood or tiled floors
Cons
HoMedics, Triple Action Shiatsu Foot Massager
HoMedics is a deep-kneading shiatsu massager with heat function that delivers intensities in circular motions. This travels through the entire feet and in the process, it rejuvenates strained soles and arches. With the three rotating heads, you get to experience a full massage from the heel to the toes.
The best remedy for feet tension is heat therapy, and with this massager's heat function, you'll feel relief on your achy and tired feet. Heat therapy during a massage makes it possible for the kneading to penetrate the tired muscles, giving you the desired comfort. It also stimulates blood flow, making you heal sooner.
For those who prefer to have the heating function off because of overheating fears, this massager has you covered, literally, with its breathable fabric. This not only keeps your feet safe even as the massage gets intense, but also keeps it dry.
Its design is considerate enough, featuring a large platform that accommodates even larger feet. It's also designed with controls placed in such a way that you can comfortably use your toes to power the machine and also turn the heat feature on.
Pros
Platform designed to fit larger feet
Triple action kneading massage
Easy to use controls
Features a long cord for convenience
Cons
Heat function doesn't last
Bemint Shiatsu Foot Massager for Plantar Fasciitis
This Belmit foot massager features 18 massage nodes placed under every foot bed made of soft mesh. This leaves you with the perfect massage experience, alleviating stress and any symptoms of menopause and PMS.
It has an independent heater that ensures that the dual foot-beds are in line with the body temperature. As your feet warms up, the stress gradually disappears and therefore the experience you'll have is similar to spa treatment. Belmit values your safety and durability of their products, and that's why it's designed with a 15 minutes auto-shutdown feature, eliminating any chances of overheating.
The comfort you'll experience with this massager is out of place. To begin with, all you have to do is sit, relax and use your toes to start, stop and change the massage settings. It also features adjustable legs and with these you can tilt the machine in any position that feels comfortable for you, preventing further foot tension.
Pros
Breathable Mesh
Durable materials
Easy to store and carry
Adjustable legs
Cons
The plastic only accommodates minimal downward pressure
RENPHO Electric Foot Massage Machine
In order to have the right massage environment, your foot massager has to be healthy and clean, and that's what this RENPHO machine entails. This product line is vastly known for durable products, making it ideal for all different people.
Unlike the rest with only meshed foot beds, this one has a 3D detachable mesh cover, making it safe to be used by many people, because it's also easy to clean. This item accommodates a number of feet sizes, so it's usable for a rewarding foot and calf massage. It's also versatile and is recommended for heel, toe and arch massages, making it worth every single dollar you'll be spending.
You'll have an option of enjoying your massage with or without the heat function, but the kneading would even feel better when combined with the soothing heat therapy. It has 6 massage heads designed with 18 massage nodes programmed in two speeds to hasten relief on stiff muscles, plantar fasciitis and heels.
Pros
Unlimited massage space
Ideal for different feet sizes
Heat therapy available
Removable zippered-mesh fabric
Cons
Miko Foot Massager, Plantar Fasciitis
This Miko foot massager features different massage settings, heat, kneading and rotating massage functions. Its effectiveness lies in the 18 rotating nodes and 6 massager heads which both actively reach the specific pressure areas on the feet.
It's designed with a variety of massage modes that work best for plantar fasciitis, muscle tension, diabetes and other feet-related ailments. This versatility makes it one of the most affordable foot massagers in 2020. What is also good about this product is that you can use it as a back massager too.
It features comfortable foot pads which do a great job in relaxing feet muscles in order to achieve a well-rounded massage. This is a massager that you can carry around with much ease because of how portable it is.
Pros
Improves blood flow
Heat targets pressure joints
Simple toe-touch controls
Customizable massage options
Sleek ergonomic design
Cons
Heat therapy not strong enough
Foot Massage Roller for Plantar Fasciitis by Natural Chemistree
Not all relief for plantar fasciitis is found in electronic massagers. This is one of those great physical therapy tools that won't have you sticking closer to the wall for your massage; so basically, you can have your therapeutic sessions anywhere.
It has an ergonomic shape that fits perfectly on the feet, so this makes it easy for the intensive massage to reach the plantar fascia tissues. If all you want is a lightweight and portable massager that can easily fit in your everyday life, Natural Chemistree has your needs covered.
It's advisable to wear socks during the massage, for a relatively gentle experience. This device can also be used as a leg massager, wrist massager, shoulder massager or even neck massager.
Pros
Versatile usage
Ergonomic design
Portable and lightweight
It's affordable
Cons
TheraFlow Dual Manual Foot Massager Roller
Here's yet another foot massager that you can use without having power input. TheraFlow massager is a great combination of traditional wood craftsmanship and medieval foot reflexology traditional. This dual massager is quite effective in bringing relief when the foot is strained and other related foot ailments.
The design is sturdy enough, so it can accommodate different weights and types of feet. It's accurately crafted with the right acupressure nubs, arch support, spacing and elevation to accommodate different needs. It's therefore suitable for issues related to plantar fasciitis, neuropathy, heel spurs and sore feet in general.
The package includes a reflexology chart and a manual that's easy to understand. With these, you won't have any problems figuring out how it's supposed to be used, making you have the best massage experience out of your investment.
Pros
Versatile usage
Sturdy wood
Accommodates different feet sizes
Portable design
Cons
Conclusion
One of the reasons why your foot massager might not last long is probably because of poor maintenance. For instance, it's advisable that you minimize the number of minutes or hours that you leave the heat function on. When left running for more than 45 minutes, some of these massagers might get damaged, and at the same time, it exposes your feet to overheating impacts that often lead to foot injuries.
But with the best foot massagers for plantar fasciitis, your safety is guaranteed. However, today you don't have to be compelled to electronic massagers and so if you're looking for the best foot massager for plantar fasciitis and feel like going the traditional way, TheraFlow Dual Foot Massager Roller is a great option to consider.